Felina UK Shop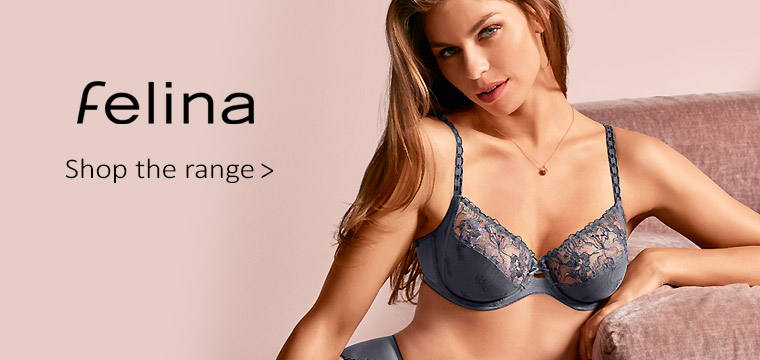 Felina Bras are some of the most amazing and well regarded in the world of underwear and clothing design.

Felina is super popular with fans and other designers in the industry alike. Everyone that loves great design, fashionable clothing, lovely underwear and feminine fashion will and does love Felina bras. So what is so great about them and why are we so excited to have a few to show you. So what is so great about Felina and what exactly is Felina Shop all about? Let's take a look and find out.
What Is So Great About Felina?

Felina is a staple name in the world of lingerie. Felina bras are known for a handful of qualities that have elevated them to the position of a household name. They are high quality, lasting for an extremely long time and always remaining in great shape throughout their life cycle. They are comfy, with a fit and standard of design that always makes them the number one choice for those who have unbeatable comfort in mind. They are affordable, being really rather surprising about just how much you are getting when you buy a Felina bra. And they are fashionable, producing some absolutely wonderful and creative prints, lace cups, colour schemes, and new creative approaches to design. Being as practical as can be does not exclude you from being as fashionable as you can be, and the is the motto of Felina fashion bras. This is Felina bras in a nutshell. They really do have everything you could want in a brand of lingerie. But how is it that they are able to do everything? Usually the case is that a brand with this much versatility and praise is a jack of all trades, but a master of none. Well, with Felina they are able to have both because they make little else besides bras. Other than matching briefs to the bras, there is nothing else that Felina makes. No nightwear or accessories or activewear or clothing. They concentrate solely on their bras and briefs, and the result is a concentrated range that happens to be among the best in the world for lingerie.



What Is Felina Shop?

Our website is Felina Shop. We are an online portal for finding your favourite Felina products and getting you acquainted with new and exciting ones too. Here you can find all the most up to date Felina bras and also find an archive of older designs that are now discontinued. This way you can find not only items that are still available for sale but be sure that other ones you were interested in are still around or are retired. Click any product to be taken to a retailer you can find the bra from.